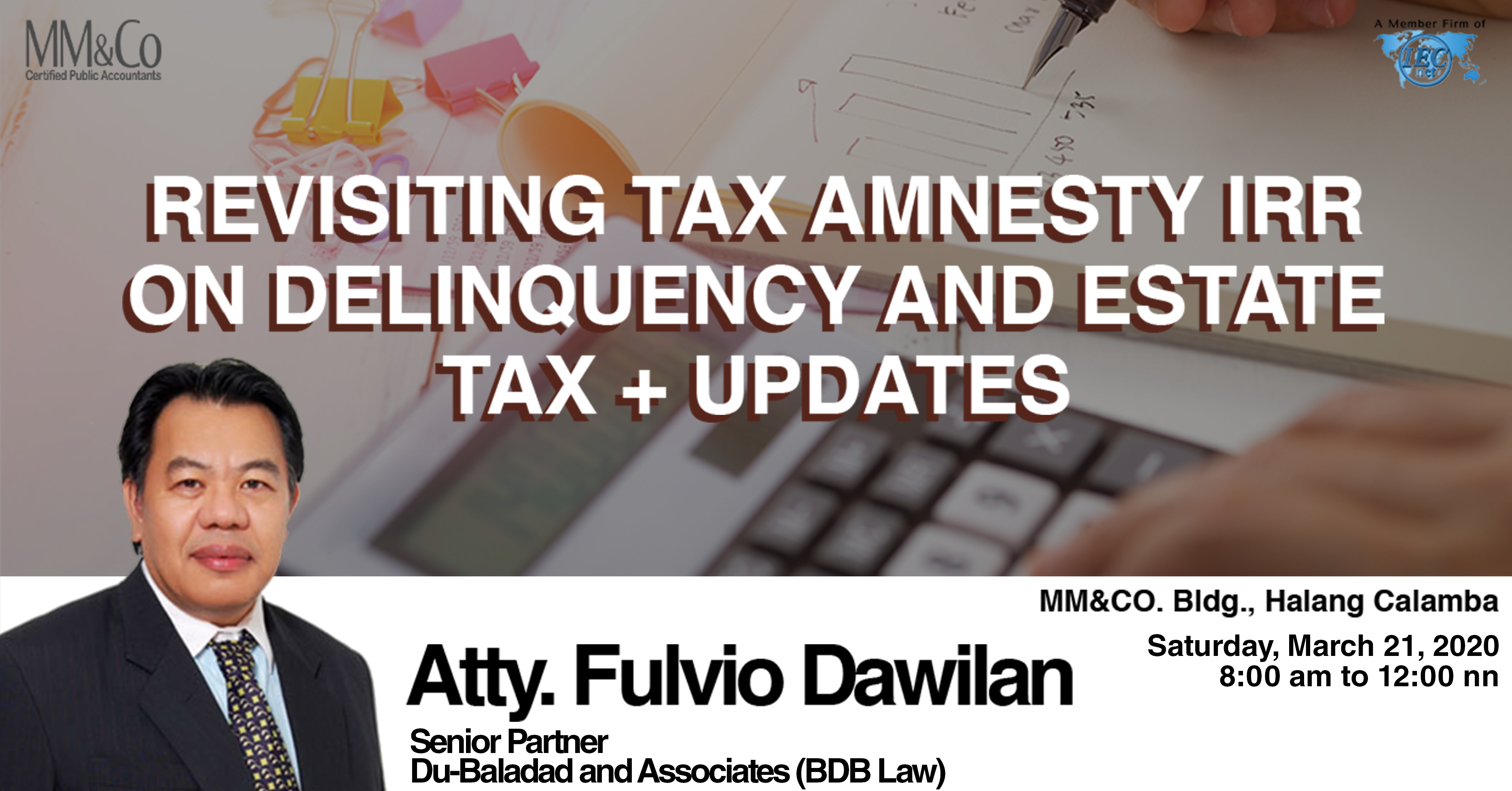 REVISITING TAX AMNESTY IRR ON DELINQUENCY AND ESTATE TAX + UPDATES
Course Description:
A review and further dialogue to clarify the recently issued implementing rules and regulations on the availment of TAX AMNESTY ON DELINQUENCY & ESTATE TAX AMNESTY.
Course Objectives:
We intend to cover usual areas of concern and reasons for the hesitations of taxpayers in relation to availing the tax amnesty. We intend to answer as much as possible the following questions:
What would it cost a taxpayer to avail of?
What are the documentary requirements to accumulate and submit?
Who are qualified and not qualified to avail?
How will it impact a taxpayer if he avails or not?
Will availing such amnesty trigger a future tax investigation to his business?
Up to when can a taxpayer avail?
What are the pros and cons of availing and not availing?
In the half-day seminar, we will also provide more relevant tax updates and related issuances, to name a few:
Introduction of the New Withholding Tax Rates under TRAIN Law: How are Taxpayers Included & Tagged as Top Withholding Agent for Purposes of Withholding on Local Purchases of Goods and Services
BIR Clarifies Invoicing Compliance Requirement in the Issuance of Official Receipt and Invoices.
The imposition of Excise Tax on Non-Essential Services: How Medical Doctors, Clinics, and Hospital will be affected by this New Tax Compliance Measure.
Priority for Tax Audit. Who be the next target for BIR audit? What is the Threshold Set for Small & Medium Taxpayers Pursuant to RMO No. 32-2019.
BIR Changes Implementing Procedures on the Property Registration & Revision of Zonal Values as a Result of Sale of Real Property under TRAIN Law: Assessing the Difficulty & Compliance of BIR on Ease of Doing Business.
Enhanced Refund System of the government pursuant to the TRAIN LAW.
DATE AND TIME
Saturday, 21 March, 2020
8:00 AM – 12:00 NN
LOCATION
2/F, MM&Co., Bldg. 8000 St. Angela Street, Lakeview Ph3, Halang, Calamba City Laguna, Philippines 4027