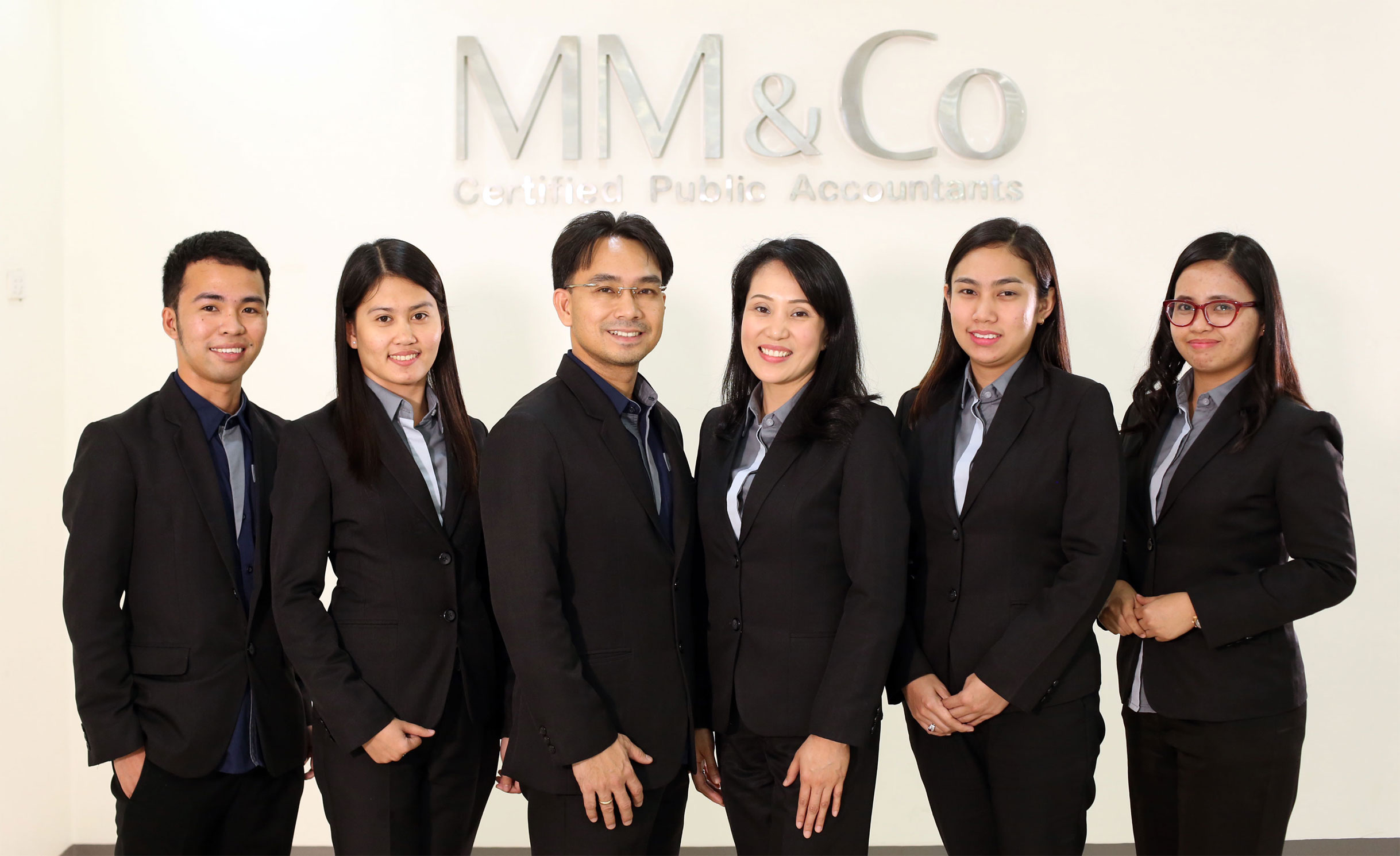 Manaig, Manaig & Co., CPAs is General Professional Partnership registered with the Securities and Exchange Commission in June 18, 2003 under PP200313551 and with the Bureau of Internal Revenue under TIN 229-328-065 in February 16, 2004 to provide professional services on matters such as accounting, auditing, taxation, consultation, and related services. The firm's office is located at G/F MM&Co. Building, 8000 Lakeview Ph3, St. Angela Street Calamba City, Laguna, part of CALABARZON-Region IVA, South Luzon area of the Philippines which is currently the most populated region of the country and at Unit 2702  27F Tycoon Centre Bldg., Pearl Drive, Ortigas Center, Pasig City, Metro Manila which is within the capital of the country.
It is positioned to ensure compliance to business laws, rules and standards of government agencies and professional organizations and to provide management valuable information for decision making. Other than audit of financial statements, availing of its services will allow companies to focus on their core competencies while the firm focuses on providing back-end assistance. With its current team of 16 junior/senior staffs, 4 managers, and 2 partners, who are highly dedicated individuals and accounting professionals, it ensures that clients get efficient and effective results. The firm was recently awarded a Gold Partner Advisor status of Xero – a cloud based accounting software which originated from New Zealand and is now one of the leading cloud software for SMEs. This tool enables the firm to provide outsourcing services to CPAs abroad in terms of bookkeeping and other agreed-upon procedure services.
Other Milestones:
In October 21, 2004, the company was able to secure the Certificate of Accreditation with the Board of Accountancy under Accr. No. 0795 as a recognized General Professional Partnership to practice the Public Accounting Profession in the Philippines.
Both Partners are accredited also in the same year 2004 with the Bureau of Internal Revenue (BIR) in Makati City then in Calamba Laguna, where bulk of their Clients do business.
In January 6, 2010 the company was issued the Securities and Exchange Commission (SEC) Accreditation Certificate-Group D with Accred. No. 0184-F.
In December 15, 2010, the company was issued by the Cooperative Development Authority (CDA) an Accreditation Certificate with Accred. No. 0017-AF.
In Oct. 17, 2011, Ms. Marife C. Manaig joined the company as a general partner to replace Mr.  Dexter Medilla who resigned in July 2010.   Ms. Manaig is from Procter & Gamble Asia PTE LTD (P&G), who started as a process owner and ended her career with Procter & Gamble PTE LTD.  (P&G) in Oct. 2011 as a CORE Operations Section Manager.
In August 12, 2013, the company has renewed its Accreditation with the CDA.
In August 5, 2013, the company has renewed its Accreditation with the SEC under Accred. No. 1343-A.
In October 29, 2013, the company has renewed its Accreditation with the BOA.
In March 17, 2016, the company was accredited with the Securities and Exchange Commission (SEC) as Group C External Auditor which expiration is on March 16, 2019.
In July 2016, the company is recognized as the 6th Philippine Accounting Firm in Laguna, Philippines that is Certified Xero Advisor Silver Partner.
In October 2016, the company was promoted as a Certified Xero Advisor Gold Partner.
In February 9, 2017, the company was able to renew its accreditation with the Bureau of Internal Revenue as Independent External Auditor which expiration is on December 9, 2020.
In August 25, 2017, the company was accredited by the Professional Regulations Commission (PRC) as Continuing Professional Development (CPD) Provider under No. 2016-106. Then, last August 24, 2019. The company is authorized to render seminars and training programs for Certified Public Accountants for another 2 years.
In Sept. 1, 2017, MM&Co. has been approved as a member firm of IECnet. IECnet is an international network of independent audit, accounting and tax practices.
In February 1, 2019, the company was able to renew its accreditation with the Securities and Exchange Commission (SEC) as Group C External Auditor which expiration is on January 31, 2022
In July 22, 2019, MM&Co. Accreditation as a CDP Provider in accordance with the Implementing Rules and Regulations (IRR) of RA No. 10912, has been renewed which expires on August 24, 2022.  See Accred. no. ACC-2016-106
In August 27, 2019, the Cooperative Development  Authority (CDA) has approved our CDA Accreditation as Cooperative External Auditor with CEA No. 0017-AF valid until August 26, 2022.
All these accreditations are renewable every three (3) years from the dates they were granted.
Nature of Business/Principal Activities:
General practice of public accountancy and such other activities as may be incident thereto.
List of Major Clients (Businesses/Activities):
Group of Companies – 1 parent with 38 subsidiaries. – Major Subsidiaries are:

Manufacturers
Distributors
Resources
Financial Services.

Stock Corporation – Distributor of hi-end footwear in the Philippines
Credit Cooperative – Largest Cooperative in Laguna which purposes are: to encourage savings among its members; to create a pool of such savings for which loans for productive or providential purpose maybe granted to its members; to provide related services to enable its members to maximize the benefit from such loans; to provide consumer services; and to provide Housing services.
Non-profit & Non-stock corporation (NGO)—Provides a variety of programs and services aimed at preventing and responding to abuse and exploitation of children in the Philippines.
Industries of MM&Co. Other clients:
Manufacturer, Manpower Agency, Celebrity, Non-Gov't Organization, Call Center, Design & Engineering, Sub-contractor, Real Estate Lessor, Consulting Firm, Distributor, Resource and Financial Services, Trading, Research Organization, Credit & Multi-purpose Cooperative and Homeowners' Association.
Accounting Firm Pasig | Accounting Firm Orgtigas | Accounting Firm Makati | Accounting Firm Calamba | Accounting Firm Laguna | Laguna CPA | CALABARZON  CPA | CPA CALABARZON | Alabang CPA | Calamba Accountant | Calamba CPA | CPA Accounting Firm | CPA Alabang | CPA Laguna | Certified Public Accountants in the Philippines | CPD Provider | Tax Agent | BIR Investigation | ICPA | Independent CPA | Tax Refund | Business Registrations | Company Registrations | Tax Consultancy Philippines | Tax Consultant Philippines | Tax Advisory Philippines | Business Taxation Philippines | Tax Administrations Philippines | Outsourced CFO Philippines | Business Process Outsourcing (BPO) Philippines | Top Accounting Firm | Top CPA Firm | Best Accounting Firm | Best CPA Firm