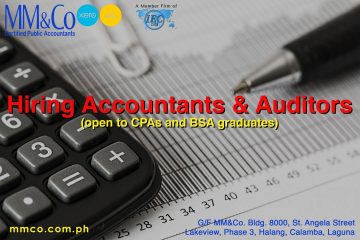 Don't let your future staffs tell you to jump on flat land.
Work with a company that provides excellent experiences on various accounting, auditing and tax works catering to Small and Medium Enterprises. Be prepared for the future and be a well-experienced accountant and auditor or a tax consultant after 3-4 years of working with us!
Our firm is seeking for qualified individuals who are willing to undergo training on accounting, audit, tax and other non-assurance services. We believe that at entry-level, a graduate should not be choosy in terms of accepting what work/task is assigned to him or her. It is important that everyone shall undergo the hardwork in the accounting and audit environment. We believe that details like encoding, filing, messengerial work, and other clerical works are very important for new staffs to learn in order to establish a good foundation before moving on to analytical skills. It is important that staffs should be prepared before moving on to a team-leader, supervisory, or managerial work. We create a culture of being prepared before any staff can be sent to the clients' office to perform audit work. It is a common knowledge to many company-clients that staff auditors being sent are fresh graduates and do not normally know what to do during their first few days at work. At MM&Co., we produce future accounting supervisors, audit supervisors, accounting managers, CFOs, public accountants, or partners of a general professional partnership.
Why choose to apply with us?
You will gain both tax, accounting and auditing experience using cloud softwares
We send qualified staffs to trainings locally and abroad
The firm is an accredited CPD provider and conducts about 20 to 30 CPD seminars a year. All staffs are encouraged to attend for FREE, CPD certificates are issued
CPA review center SCHOLARSHIPS granted to aspiring CPAs (after 1 year of employment)
Regular work days are Mondays through Fridays from 8:30 am to 5:30 pm only. We give Extra 1 day pay when asked to work on Saturdays
Paid overtime (OT) work with OT meals
Enjoy health and insurance benefits after 1 year of work
Company sportsfest, outing, and other events are celebrated every year.
We accept applicants for the following positions:
Certified Public Accountants (CPAs)
19-23 years old
Willing to render out-of-town field works
Willing to render overtime during audit seasons and when there is a business need
A team-player, honest, with integrity, teachable
Computer literate: Excel, Word and PowerPoint
Requirements:
Resume with 2×2 colored picture
Transcript of Records (TOR)
CPA certificate of grades
Send resume to manaig.mc@gmail.com or contact +639 17626 3149. Applicants are requested to come to MM&Co office for exam and interview anytime from 9am to 3pm Mondays thru Fridays. MM&Co office is located at G/F MM&Co Bldg. 8000 Lakeview Angela Street, Brgy. Halang Calamba, Laguna, adjacent to Calamba Water District Halang, Canossa Site.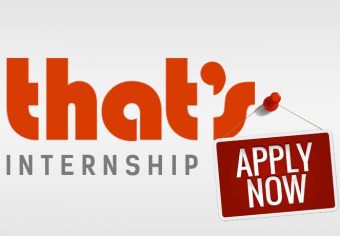 WORK AS AN ACCOUNTING/AUDIT TRAINEE/ OJT
with Manaig, Manaig & Co., CPAs [MM&Co.] https://mmco.com.ph/ a Laguna, Philippines-based CPA firm that provides excellent experiences on various accounting, auditing and tax works catering to Small, Medium-sized Enterprises and Large Taxpayers.
Our firm also is heavy on implementation of Cloud Accounting and Tax Softwares to our domestic and
international clients. We are a CDP Provider since year 2017 and provide trainings for both CPAs and Non-CPAs related to the CPA Public Accounting Profession.
Our firm is looking for:
INTERNS/ On-The -Job Trainees who are Undergraduates of:
I. BS Accountancy, Management Accounting and
II. II. Information Technology (IT) Courses
We provide OJT Allowance if OJT program is not a requirement in school: To be discussed upon your visit/application.
Qualifications for Accounting Interns:
BS Accountancy/Management Accounting/Accounting Technicians Undergraduates
Eager to learn the work of a Tax Specialist and Bookkeeper OJT using Cloud-based accounting, tax and auditing softwares
Proficient in MS Excel and Word
Qualifications for Computer Technicians/IT Interns:
Knowledgeable in computer and laptop troubleshooting, both in hardware and software and networks
Knows graphics design and video editing
Requirements:
Resume with 2×2 colored picture
Photocopy of School ID
Proof of enrollment with the subject Internship or On-the Job Training enrolled
Endorsement letter from College Dean
Memorandum of Agreement from School/College/University
Signed Consent and Waiver Form
Send your resume to guzman.mlm@gmail.com cc: manaig.mc@gmail.com or contact
+63 917 626 3149, Laguna line: (049) 523-6031 Manila line: (02) 330-8617;(02) 330 6057