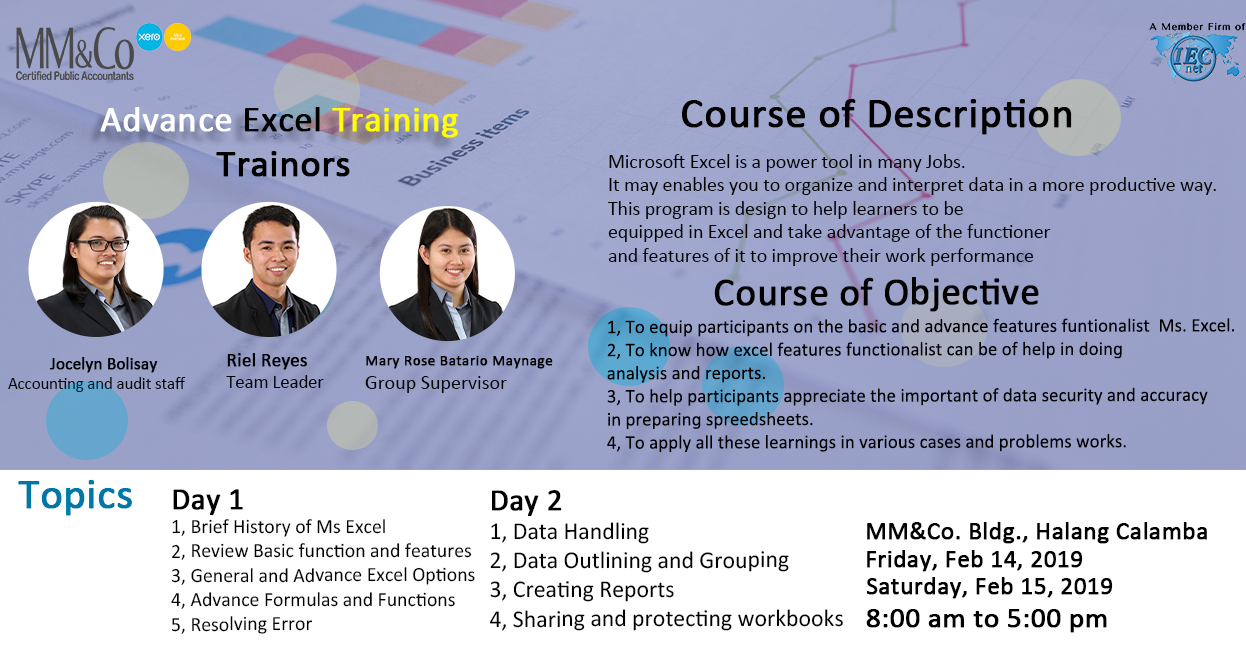 Course Description:
Microsoft Excel is a powerful tool in many jobs. It enables you to organize and interpret data in a more productive way. This program is designed to help learners to be equipped in Excel and take advantage of the functionalities and features of it to improve their work performances.
Course Objectives:
Day 1
To be aware of what your accountants do in preparing your financial statements and filing tax returns;
To learn about frequently asked tax exposures on income tax, expanded withholding tax, VAT and other relevant taxes required to be filed, reported, and paid;
To be able to identify common and/or obvious financial statement issues like disproportionate balances between/among assets, liabilities and equity and irregularity on ratios between cost and sales/revenues for both current and prior years, etc. resulting to huge tax assessments;
To understand the work of external auditors of financial statements before filing to the SEC and the BIR.
Day 2
To equip participants on the basic and advanced features and functionalities of MS Excel;
To know how excel features and functionalities can be of help in doing analyses and reports;
To help participants appreciate the importance of data security and accuracy in preparing spreadsheets;
To apply all these learnings in various cases and problems at work.
(Topic for Day 1- refer to column P)
DATE AND TIME
Day 1:
Friday, 14 February, 2020
8:00 AM – 5:00 PM
Day 2:
Saturday, 15 February, 2020
8:00 AM – 5:00 PM
LOCATION
2/F, MM&Co., Bldg. 8000 St. Angela Street, Lakeview Ph3, Halang, Calamba City Laguna, Philippines 4027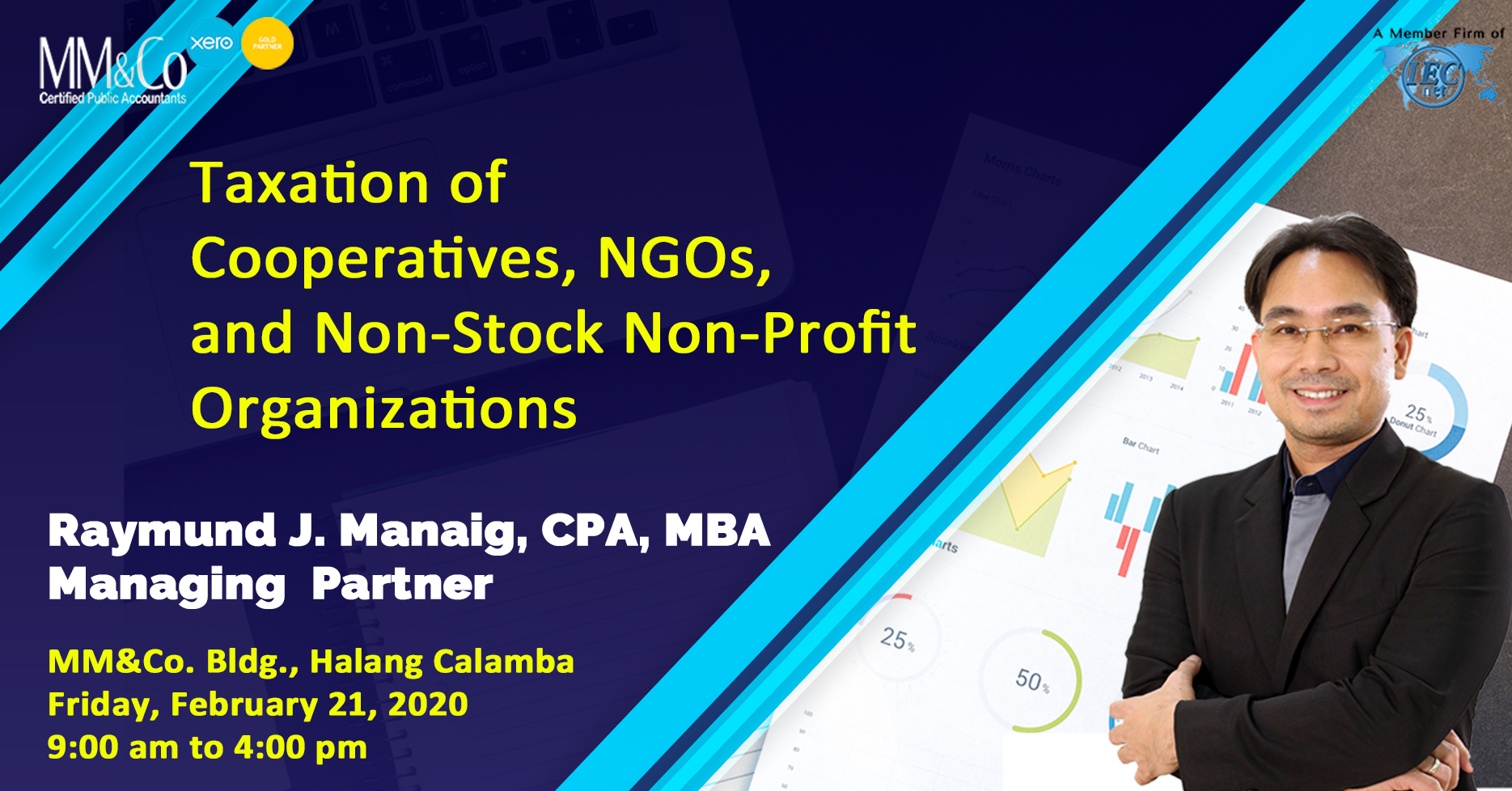 Taxation of Cooperatives, NGOs, Non-Stocks Non-Profit Organizations
Course Description:
The seminar will discuss taxation of Cooperatives, NGOs, and Non-Stock Non-Profit Organizations. Participants are expected to know all the essentials, latest issues and concerns, and how to deal with the taxation requirements of these types of organizations.
Course Objectives:
To be knowledgeable on the rulings related to taxation of Cooperatives, NGOs, and Non-Stock Non-Profit Organizations;
To determine the taxable and non-taxable transactions of these entities. ;
To learn what are the tax reports, filing and payment requirements applicable;
To learn how to properly position such exempt entities against the assessments of the Bureau of Internal Revenue (BIR) when handling Letters of Authority. The seminar will not discuss the whole of Tax Remedies but, will provide insights, ideas on how to represent these exempt entities during BIR investigations.
DATE AND TIME
Friday, 21 February, 2020
9:00 AM – 4:00 PM
LOCATION
2/F, MM&Co., Bldg. 8000 St. Angela Street, Lakeview Ph3, Halang, Calamba City Laguna, Philippines 4027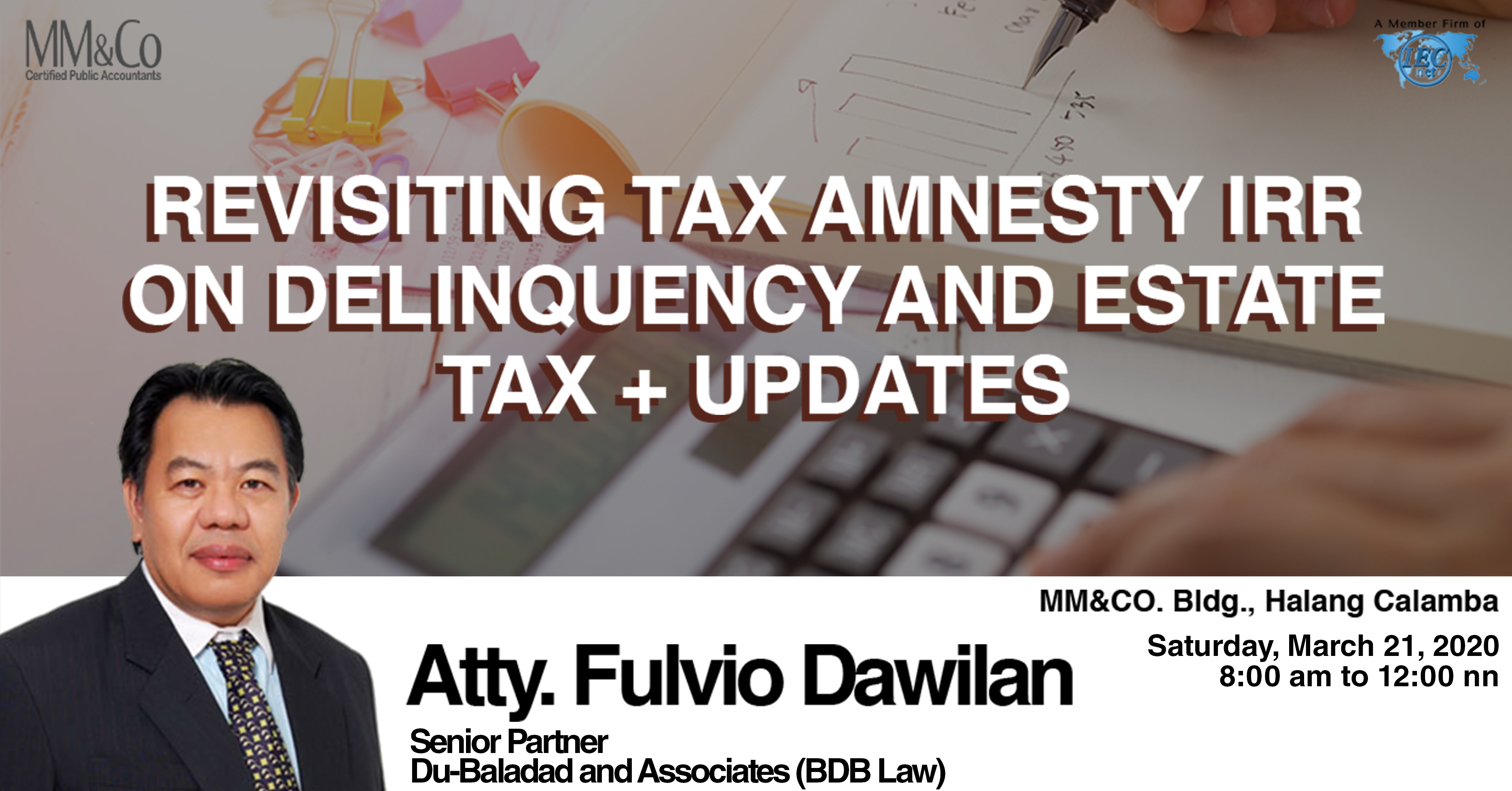 REVISITING TAX AMNESTY IRR ON DELINQUENCY AND ESTATE TAX + UPDATES
Course Description:
A review and further dialogue to clarify the recently issued implementing rules and regulations on the availment of TAX AMNESTY ON DELINQUENCY & ESTATE TAX AMNESTY.
Course Objectives:
We intend to cover usual areas of concern and reasons for the hesitations of taxpayers in relation to availing the tax amnesty. We intend to answer as much as possible the following questions:
What would it cost a taxpayer to avail of?
What are the documentary requirements to accumulate and submit?
Who are qualified and not qualified to avail?
How will it impact a taxpayer if he avails or not?
Will availing such amnesty trigger a future tax investigation to his business?
Up to when can a taxpayer avail?
What are the pros and cons of availing and not availing?
In the half-day seminar, we will also provide more relevant tax updates and related issuances, to name a few:
Introduction of the New Withholding Tax Rates under TRAIN Law: How are Taxpayers Included & Tagged as Top Withholding Agent for Purposes of Withholding on Local Purchases of Goods and Services
BIR Clarifies Invoicing Compliance Requirement in the Issuance of Official Receipt and Invoices.
The imposition of Excise Tax on Non-Essential Services: How Medical Doctors, Clinics, and Hospital will be affected by this New Tax Compliance Measure.
Priority for Tax Audit. Who be the next target for BIR audit? What is the Threshold Set for Small & Medium Taxpayers Pursuant to RMO No. 32-2019.
BIR Changes Implementing Procedures on the Property Registration & Revision of Zonal Values as a Result of Sale of Real Property under TRAIN Law: Assessing the Difficulty & Compliance of BIR on Ease of Doing Business.
Enhanced Refund System of the government pursuant to the TRAIN LAW.
DATE AND TIME
Saturday, 21 March, 2020
8:00 AM – 12:00 NN
LOCATION
2/F, MM&Co., Bldg. 8000 St. Angela Street, Lakeview Ph3, Halang, Calamba City Laguna, Philippines 4027